Clastify vs Prodigy Prompt for IB Internal Assessment Examples: Which is the Best Option?
---
There may be affiliate links in this post which means I may receive a commission if you purchase something through a link. However, please be assured that I only recommend products I have personally used and love!
---
There are two clear front-runners for finding top-scoring examples of IB coursework: Clastify and Prodigy Prompt.
This blog post will deep dive into both sites and help you make the right choice in which one to choose.
Before writing this blog post, I looked online for an example of how a 'good' comparison blog post should look. I'm 100% sure that most students will do this before they start a piece of work too. One of the biggest headaches you'll have as an IB student are internal assessments and extended essays.
It's acceptable for you to look up top-scoring IA examples online before you start writing yours - it really is! In fact, it's a silly idea NOT TO!
You should use examples online to gauge the quality of internal assessment expected before you start to write your own coursework. From looking at top-scoring IAs online, you'll learn how to structure your report, which sections are important, where you can score marks and how to improve your own work.
The recent AI boom has slightly complicated the waters….
It's so tempting to use ChatGPT to write your coursework for you.
Two warnings on this:
Most schools will put your internal assessment through TurnItIn to check for plagiarism. In January 2023, they announced their AI writing detection capability. The fact is that if you use ChatGPT to write your coursework - TurnItIn is going to flag it up.
I spent the whole of December and January obsessing with ChatGPT (and other online AI tools. I'll tell you something… they don't know physics. The physics is always completely wrong. Don't rely on ChatGPT for anything vaguely technical or mathematical. It's not advanced enough yet.
So we're back to the start -
You should use IB internal assessment ideas and examples online, but which website should you use - Clastify or Prodigy Prompt?
Prodigy Prompt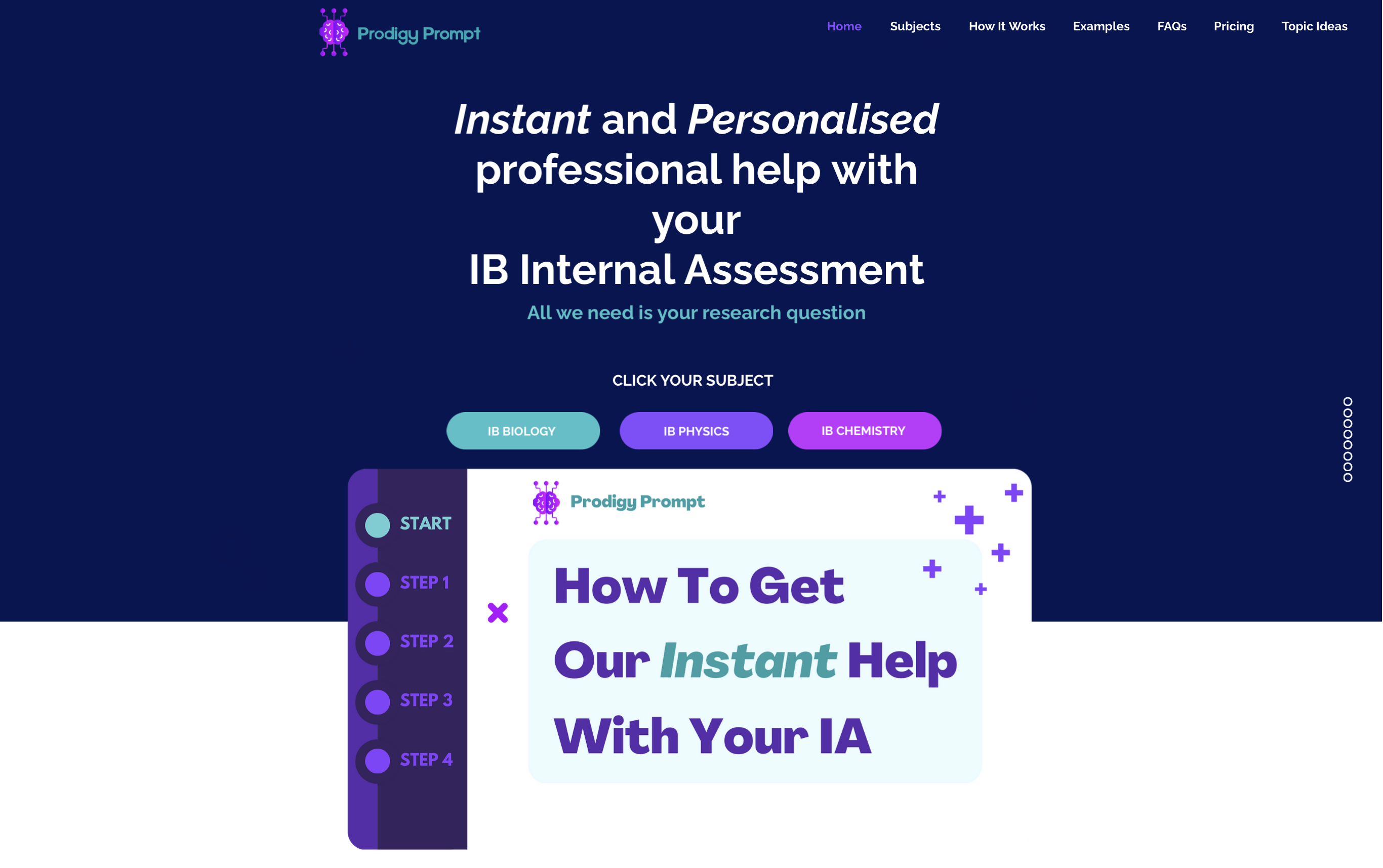 Description of Prodigy Prompt and its Features
Prodigy Prompt is very new to the market and launched in February 2023.
Put simply, you type in what your IA research question is and their IB experts will email you (within 10 minutes!) personalised, unique and top-scoring example sections of your IA report.
For the moment, it focuses only on IB Physics IA examples, IB Chemistry IA examples and IB Biology IA examples.
These examples will help you structure your report, offer appropriate vocabulary to use and give you ideas of what to look for when constructing your method, variables, and evaluation of the experiment.
It works by using a large language model (coded by IB teaching experts) to construct the initial examples and then the IB experts review these examples before they are released.
Prodigy Prompt has a friendly feel to it…! It's written by IB teaching experts and is designed to provide guidance and assistance during the investigation process, much like a friendly IB teacher would. It's pretty clear that Jasper (Physics Expert), Jo (Biology Expert) and Jake (Chemistry Expert) are fictional, but you can't help but feel like they ARE there trying to help you out!
How Prodigy Prompt helps students by providing IB Internal Assessment examples.
Every example is written 'live' by Prodigy Prompt's advanced technology and is based on the prompts (or information) that you give them. This means every answer is unique. It is 99.9% likely to produce a different answer for every request made.
So….
If you tell Prodigy Prompt that you want to investigate how the volume of milk from a 10-year-old pet goat affects the rate of cooling of your coffee… and you want to know this because you LOVE. THAT. GOAT….. Prodigy Prompt will take all of that into account and write you a top-scoring example including your love of the goat….
There's no other IB internal Assessment example tool like this on the market.
Here's an example of the email you'd get from Prodigy Prompt after submitting your research question. You'll also notice that you can offer further information about your particular internal assessment too. This makes the example sections become even more super personalised:
You will receive an email with a LOT of personalised and educational material (relevant to your research question).
I like that the email also make it clear that the IA examples are there to improve your understanding of the subject and to help you write your own coursework.
You can see in the email above that it also contains step-by-step instructions on how each section should be written. These guides are ridiculously useful and worth the service alone!
Is Prodigy Prompt free?
There's a small fee. It's $7 per example.
To avoid paying $7, you'd probably need to spend hours searching google - or use Clastify (more on that later!). Otherwise, you will find it time-consuming (and often impossible) to find an example of your exact research question that is not behind a paywall.
To avoid paying $7, you could approach your teacher at school. Prodigy Prompt has been designed to replicate your friendly IB teacher, without having to wait until you see them in school. Do you want help now? or wait to speak to your teacher? You have to decide if $7 is worth the convenience.
Advantages of Prodigy Prompt
Top-scoring IB Internal Assessment examples written uniquely for you and delivered almost instantly

Speeds up the IA writing process enormously

Saves you from having to wade through a huge bank of Physics IA examples, Biology IA examples and Chemistry IA examples to find one that suits your needs.

By giving more information, you'll receive super personalised responses

There is a team of IB experts who review the examples and ensure their quality and relevance

Your response also includes step-by-step blueprints on how to craft your own excellent content for your report
Limitations of Prodigy Prompt
You can't copy and paste.
The examples generated by Prodigy Prompt are not designed to be copied and pasted. Prodigy Prompt is a teaching tool that saves you valuable time and effort. You should use the examples as a guide or reference to help improve your work.
So the big disadvantage is that you can't copy and paste the examples into your internal assessment….
Even though the examples are written 'live' for you, they may be flagged on any plagiarism software.
Clastify doesn't have any guidelines on this and they even mention that copying and pasting is available when you upgrade to their premium subscription.
Focuses only on Chemistry, Physics and Biology IA Examples (for the moment)
There's a section on the Prodigy Prompt FAQs that suggests more IB subjects are in the pipeline. At the moment, it's only for these three subjects.
Clastify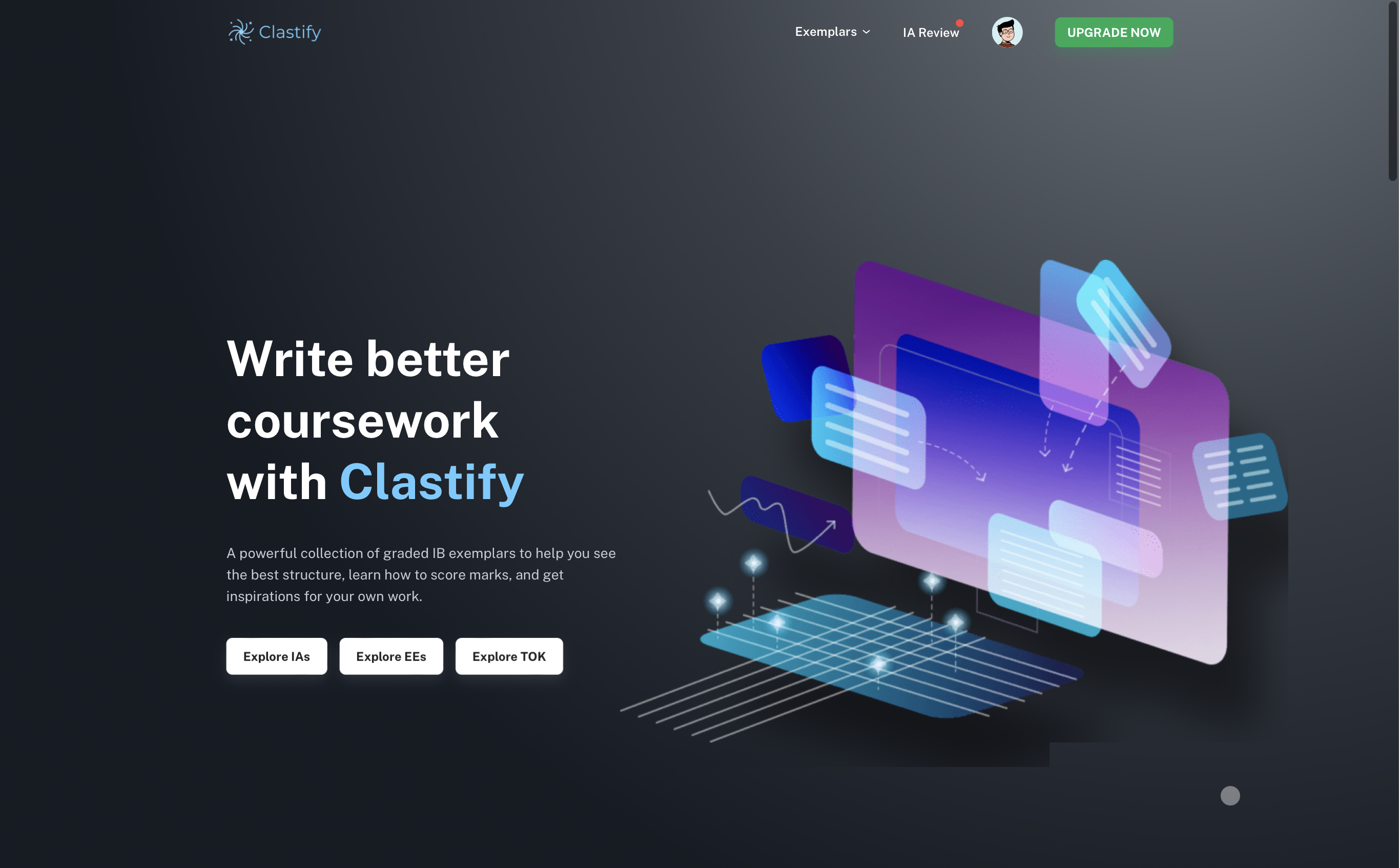 Description of Clastify and its Features
Clastify focuses on providing a database of pre-existing examples of extended essays, internal assessments and ToK essays written by previous IB students.
You can search through their bank of examples and filter on the following categories:
Grade awarded

HL or SL

Exam session
If they have an example report that is relevant to you, you can see the whole report.
The website says there are 4000+ reports on the site and they are supplied by previous IB students. They pay students to submit their coursework, so I'm imagining this database gets bigger!
How Clastify helps students
The first way it helps is to offer a large bank of graded examples IAs, EEs and ToK essays!
If you find one on Clastify that is relevant to you, that example MAY be accompanied by a mark scheme. The mark schemes are really helpful, follow the IB criteria and are provided by IB tutors. On the free subscription, you can see the first two sections of the mark scheme. If the example you are looking at has not been marked, you can request for a mark scheme to be provided, although I'm assuming this will take some time to produce.
I searched the same question that I asked Prodigy Prompt, "how does sound intensity change with distance from a speaker?" And there were two courseworks (both grade 6) submitted to Clastify. One of them had a mark scheme and here's what it looked like: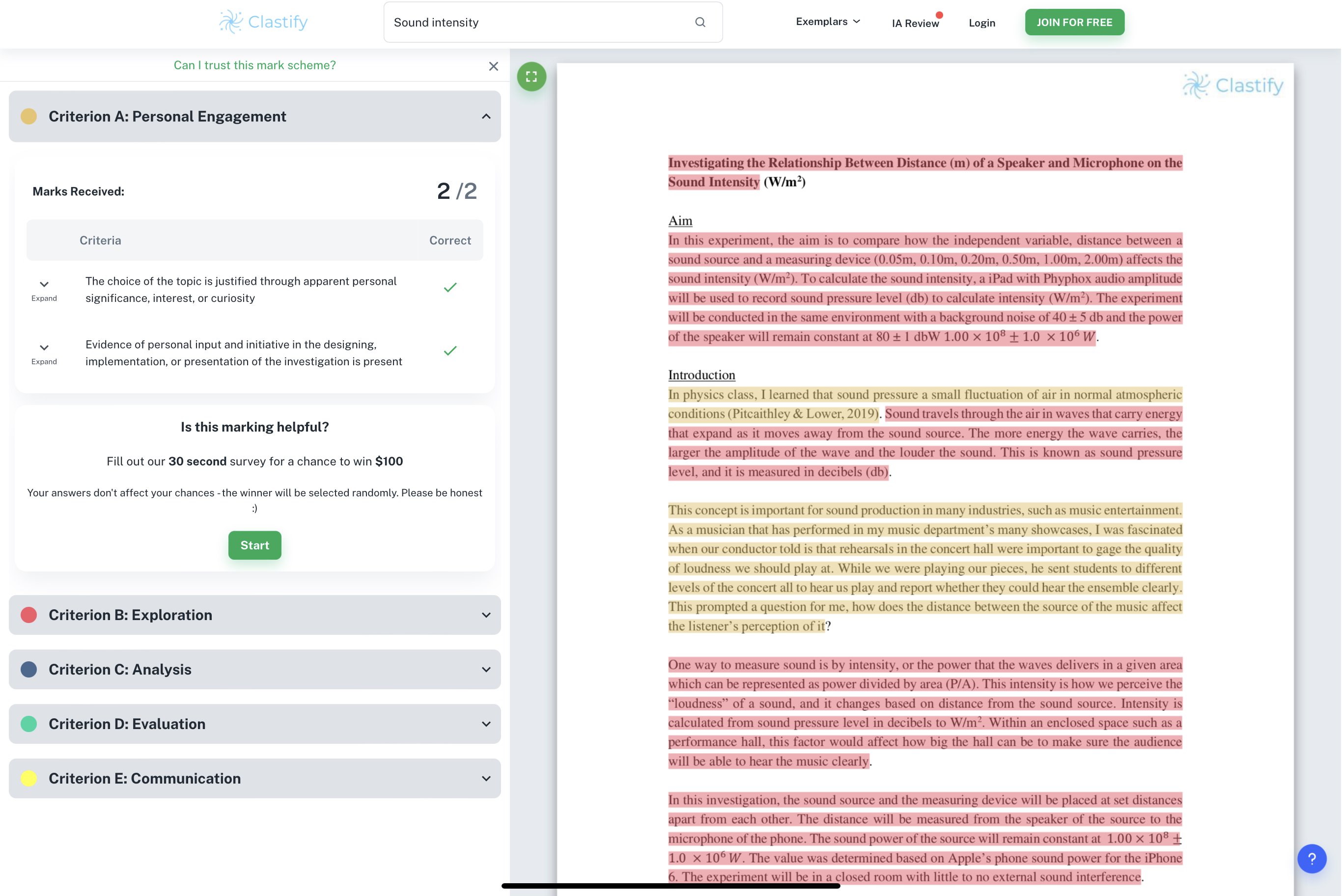 You can see it's pretty useful. The yellow highlighted areas refer to the marks awarded to the Personal Engagement section of the report. The mark scheme explains why the mark was awarded (or not). The Free subscription allows you to see the first two sections of the criteria (e.g. Personal Engagement and Exploration). You need to upgrade to premium to see the remaining sections.
The benefit to students of seeing examples of coursework means that you can see the structure of a good report, learn where marks are awarded and get inspiration for your report, which is pretty helpful.
The other helpful element is the IA review service. Once you've completed your report, you can submit it to be reviewed by their team. You'll receive quality feedback and suggestions for improvement, within 3 days of submission.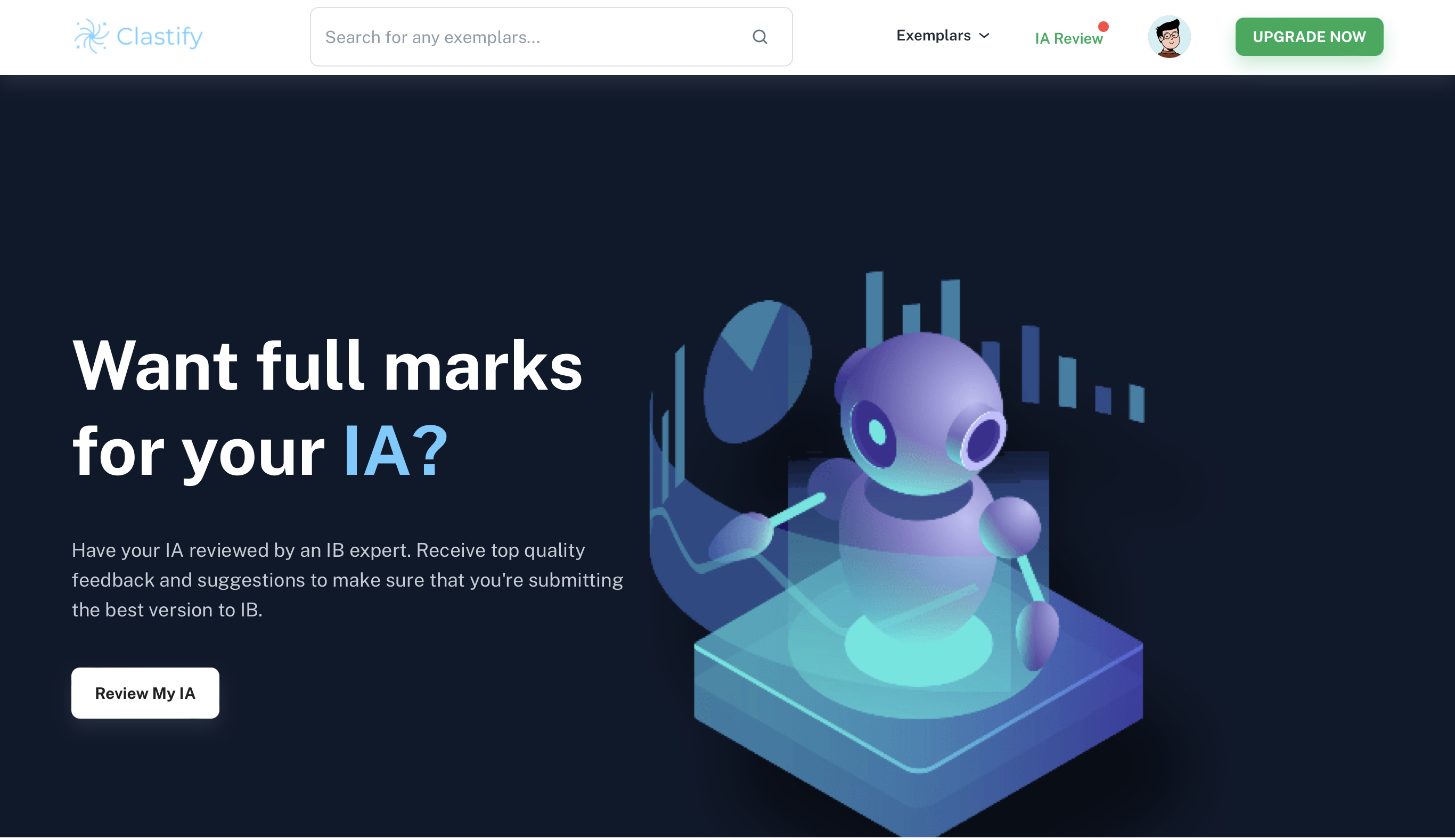 This IA review service is remarkably cheap at $39.99! I offer a similar VIP service here on GradePod, but I charge £140. If you choose to use this Clastify service, you'll receive an expected grade for each criterion, with comments and section recommendations for improvements.
Is Clastify Free?
You can set up a free account, which gives you pretty good access if you just need to see an example. It includes:
The first 2 criteria of the mark schemes unlocked

Only overall grades of the reports are available

Limited access to exemplars

Downloading not available

Copying text not available

Ads
The premium account offers the following features:
Unlock full IA mark schemes

See the exact scores of IAs

Unlimited access to all exemplars

Download 15 exemplars per month

Copy text from exemplars

No ads
At the time of writing, there were three different billing cycles for the premium account. The Annual Plan is billed at $71.88 ($5.99/month * 12), the Semi-annual Plan is billed at $41.94 ($6.99/month * 6) and the monthly plan is billed at $9.99/month. It's a little complicated, but it works out cheaper if you take the annual plan.
Advantages of Classify
A large bank of exemplars submitted by previous IB students, with sections of mark schemes available free.

Covers all IB subjects AND EEs, IAs and ToK essays

Exemplars show the grade and you can see the whole report on the free subscription

On the free account, you can also see the first 2 criteria of the mark scheme (i.e. Personal Engagement and Exploration for Science IAs)

The premium account offers greater access to download and copy reports. It also has the full mark scheme to view.

There is an IA review service after you've written your report.
Limitations of Clastify
Copying encouraged?
Honestly… I find some of the wording a little worrying regarding the plagiarism issue. The premium account explicitly says you can copy text from the examples and their terms of service say that the Clastify platform enables its Users to copy material content.
I'd be really wary of this. I feel that if a team of IB experts were really behind this website, then they'd be keen to highlight the possible plagiarism issues and encourage students to use the examples ONLY for inspiration - not to copy. It's also not really in the IB spirit of things…. Maybe that's just me being an old, boring IB Physics teacher!
Same Information for Every Student
Unlike Prodigy Prompt, on Clastify every student who is completing the same research question will see the same report. This means that there is more chance of you producing a report that is very similar to another student.
Database might not contain a relevant example
If Clastify doesn't have an example that is relevant to your chosen research question, then it's not very useful to you. Prodigy Prompt can give you examples for ANY research question because every example is written 'live' and unique to you. Having said this, with 4000+ examples in their database, you can imagine that they cover most bases here.
Conclusion
I've summed up this comparison between Clastify and Prodigy Prompt with a summary table:
Clastify and Prodigy Prompt are both excellent IB Internal Assessment example websites that aim to help IB students with their coursework. They both do an equally good job of helping IB students.
The reason I gave 4/5 to Clastify is that they don't address plagiarism on their site. Their premium model seems to encourage copying and pasting.
The reason Prodigy Prompt did not get 5/5 is because of the limited subjects available.
Remember that this table is not really the full picture. They both offer different services and features.
Clastify provides a large bank of pre-written coursework examples that students can search through to find a sample close to the research question they are working on. They can also view the grade the coursework received and the marking criteria used. On the other hand, Prodigy Prompt is a writing platform that offers personalised example sections written 'live' by IB experts. It also focuses on feedback to help students improve their writing skills.
Both websites have different approaches to helping students with their studies. Clastify provides a database of pre-written coursework examples, while Prodigy Prompt offers personalised writing prompts and feedback. Clastify doesn't seem too worried about the concept of copying the examples, whereas Prodigy Prompt works to provide top-quality examples AND educate fully on how to produce your own.
In terms of user experience, Clastify has a simple search function and interface, while Prodigy Prompt may have a more interactive and personalised experience with personalised writing prompts and feedback.
In conclusion, both Clastify and Prodigy Prompt have unique features and approaches to help students with their studies, and the best one for a student depends on their specific needs and preferences.
I'd really encourage you to do your own research. Have a good look at both websites and decide which better suits your
FREE eBook: The ULTIMATE IB Physics Internal Assessment Guide
Get your #1 Amazon Best Seller on GradePod for free here
Download Your Free eBook Here