IB Physics May 2021 Exams: Results, Grade Boundaries and Statistics
Jul 10, 2021
Just thought I'd catch up with a few thoughts on the May 2021 exams and results.
​
So.... as you know there were two routes:
​
NON-EXAM ROUTE
61% of students worldwide were entered into the non-exam route and the final grade was determined by a combination of internal assessment grades and predicted grades. I'm pretty sure most schools conducted some form of 'mock exam' and most students felt they were awarded fair grades through this route.
​
EXAM ROUTE
The remaining 39% followed the exam route. Initial feedback was that the physics exams were fair. It made a big difference not having Paper 3. Obviously, Paper 2 was tough, but the IB seemed to recognise this by making the grade boundaries low:
​
GRADE BOUNDARIES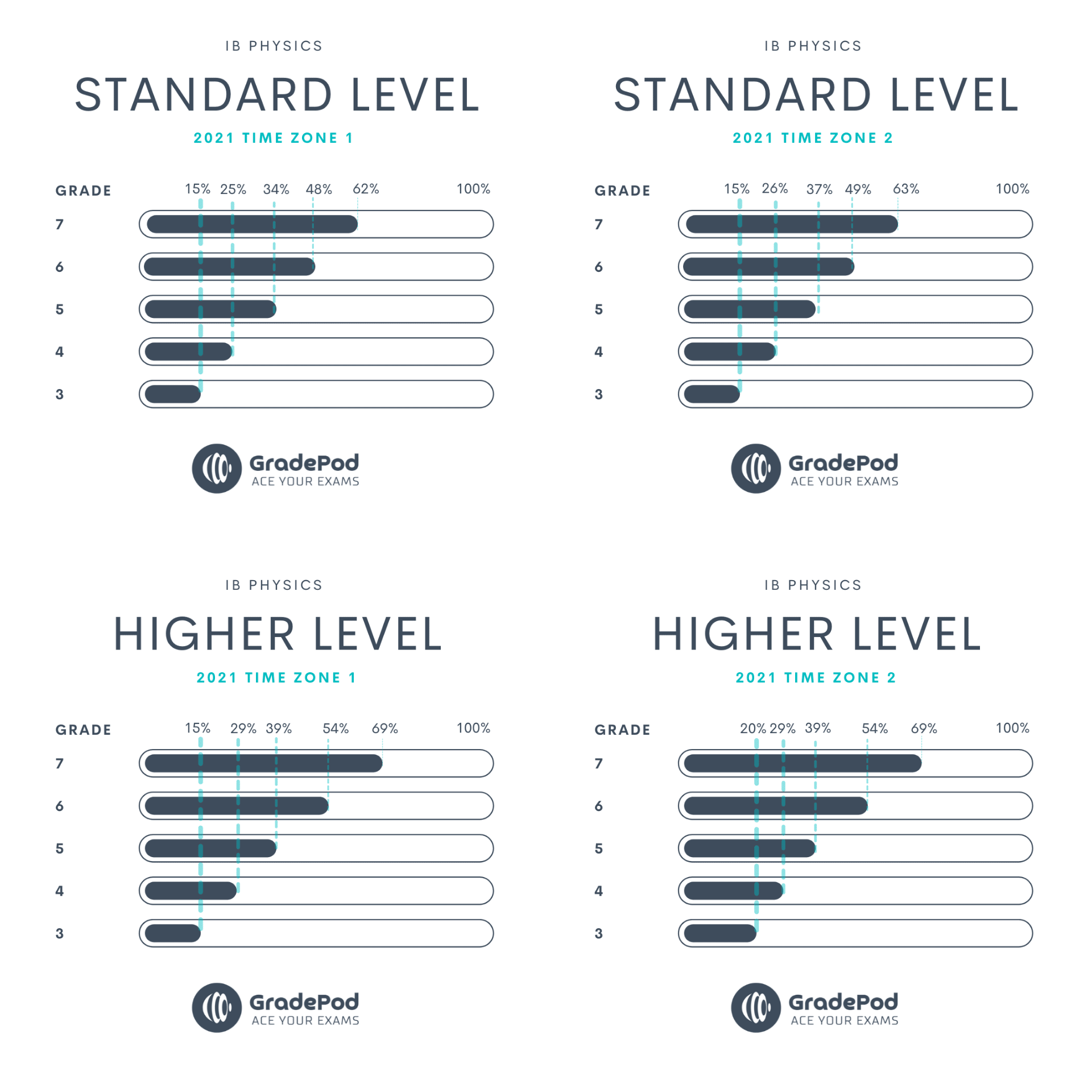 IMPORTANT NOTE: These grade boundaries are anecdotal at the moment and I have worked them out from feedback on individual students grades. They are not the official grade boundaries. If you could add to these grade boundaries or offer thoughts - let me know.
​
RESULTS
The general feeling is that results awarded were fair and there has been less of an outcry online from previous years. For the IB as a whole, 89% of IB students were awarded their diploma, the average grade for any subject was 5.19 and the average overall score was 33.02.
​
At GradePod, we have been absolutely delighted with the success of our GradePod May 2021 students. These students all used Ace Your IB Physics Exams as a supplement to their learning in class or online. All students demonstrated marked progess in their grades and some achieved this within a very short timeframe.
​
For those GradePod students following the non-exam route, particular positive feedback and praise was given to the quality of the "Step-by-Step Guide To Writing the PERFECT Physics IA" which is a bonus course inside Ace Your IB Physics Exams. We are pleased that this course provided such a solid and proven blueprint for achieving top marks in the Physics IA again this year.
​
For GradePod students following the exam route, it was a really positive experience for them. They all felt the course had directed their revision towards the exams in a useful and motivating way.
​
Needless to say, I'm delighted for all IB Physics students who have gained such good grades, but I'm particularly pleased for the GradePod students who followed the Ace Your IB Physics Exams system. It's just more proof to me that the system works!
​
I'll leave you with some emails I've received over the last few days from these students. Their future plans sound so exciting (I'm jealous!) and I'm so pleased that GradePod could have helped them on their way.
​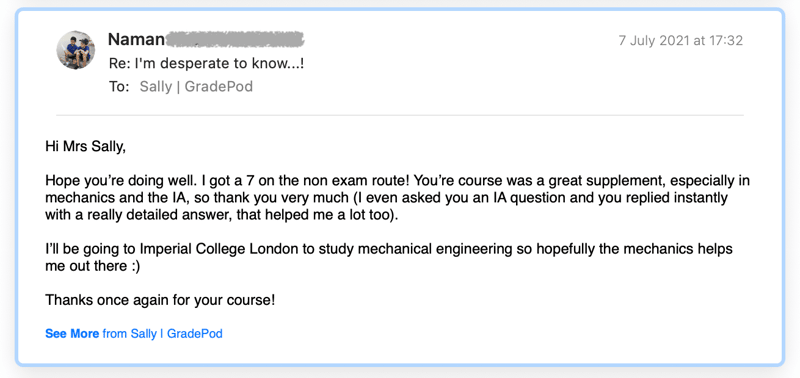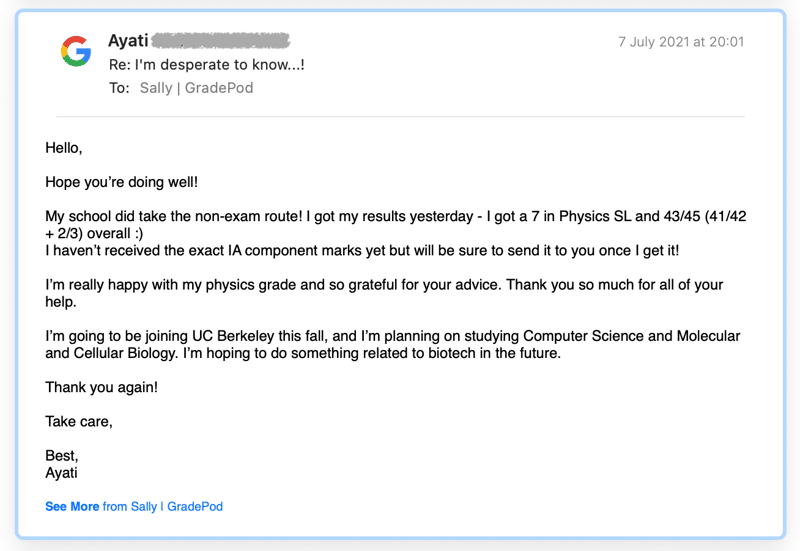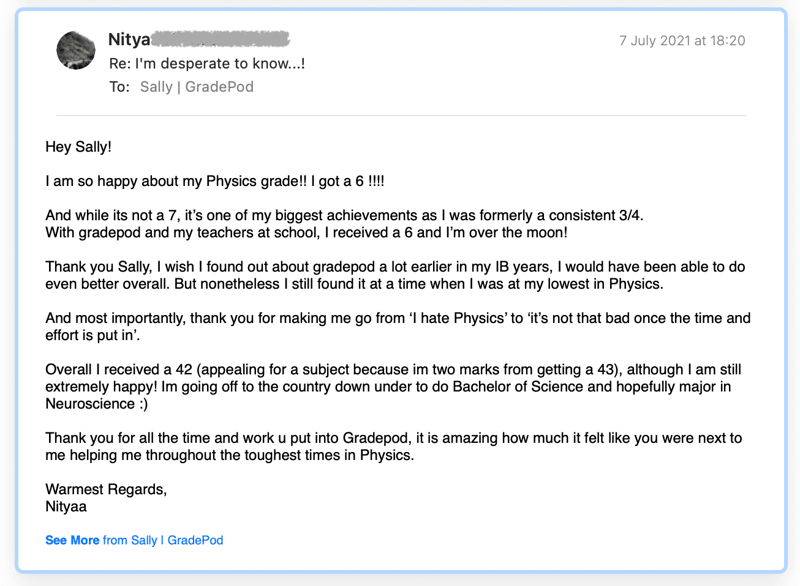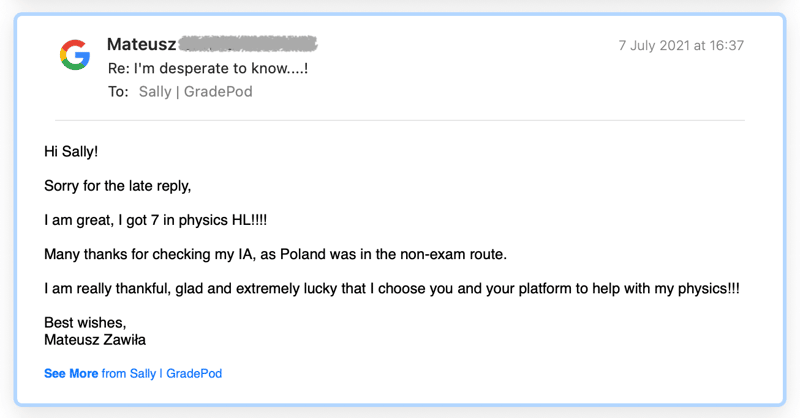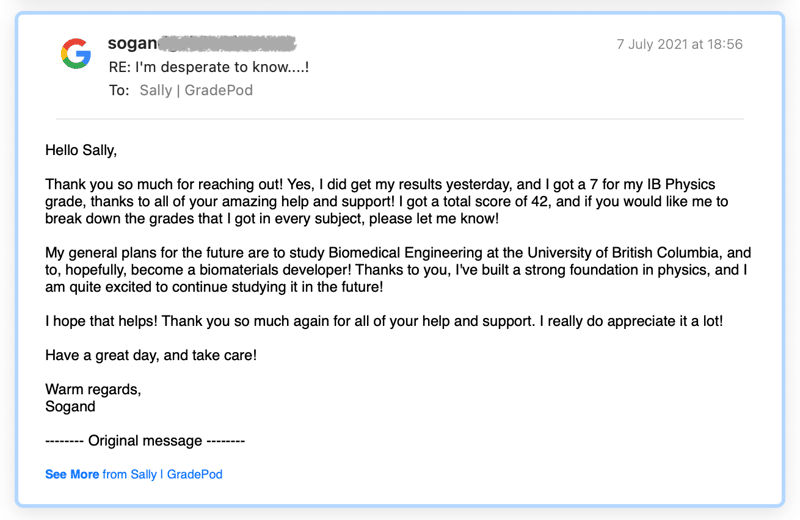 ​
If you'd be interested in joining Ace Your IB Physics Exams, you can read more about the course here:
https://www.gradepod.com/ib-physics-revision-course
FREE eBook: The ULTIMATE IB Physics Internal Assessment Guide
Get your #1 Amazon Best Seller on GradePod for free here
Download Your Free eBook Here